HOW TO CHOOSE YOUR VAPE E-LIQUID?
The vaping market has hundreds of e-liquids to choose from and if you're wondering which one to start with, or looking to try a new brand, it's worth taking some time to understand what's in your e-liquid first, so you can make the right choice. Have a look below to gain a better understanding of e-liquids.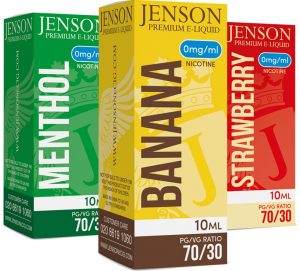 WHAT ARE HIGH-PG E-LIQUIDS?
70PG/30VG
Available in 27 flavours and 4 strengths (0mg, 6mg, 12mg, 18mg)

Propylene Glycol (PG) is used in a range of household products including asthma inhalers, shampoo and food additives. High-PG e-liquid provides more concentrated flavour and, with the throat hit common to PG, provides a vaping experience that is closer to that associated with smoking tobacco. This makes High PG e-liquid the best choice for new vapers.
WHAT ARE 50/50 E-LIQUIDS?
50PG/50VG
Available in 18 flavours and 5 different strengths (0mg, 3mg, 6mg, 12mg, 18mg)
As you would expect, a 50/50 ratio e-liquid has an equal balance of the two main ingredients; vegetable glycerine (VG) and propylene glycol (PG). This e-liquid can be used with most devices making it a versatile e-liquid ideal for those using mouth to lung devices (MTL) or direct to lung (DTL) devices. The equal ratios of VG and PG provides an balance of flavour, throat hit and vapour making it an ideal choice for new and existing vapers.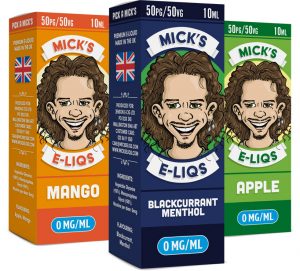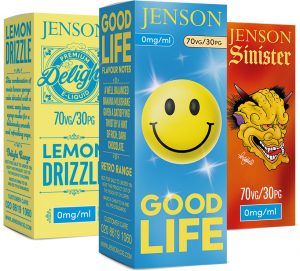 WHAT ARE HIGH-VG E-LIQUIDS?
70VG/30PG
Available in 18 flavours and 3 different strengths (0mg, 3mg, 6mg)

Vegetable Glycerin (VG) is derived from vegetable oil and is found in a host of food items, particularly low carbohydrate foods where its slightly sweet taste is used to add sweetness and moisture. High VG e-liquid is considerably thicker than High PG and generates clouds of rich vapour, providing a much smoother hit than High PG e-liquid, is used for sub-ohm vaping (using coils with a resistance lower than 1 ohm) and used for direct to lung (DTL) devices.